Top Ten Tuesday is a weekly meme hosted at
The Broke and the Bookish
.
They tell us not to judge a book by it's cover, but who can really say that they don't? And what if, even looking past the cover, the description leads us astray? Here's my top ten books that made me think I'd be getting one thing, but gave me another:
10. Settling ~ Shelley Workinger
I'll admit, I totally based my expectations on the title. In book one the characters just found out they have super-powers. Now, in book two, they're gonna spend the rest of the summer settling into their new environment and abilities. ...Not so much. The main character ends up discovering a second ability, suddenly and inexplicably making out with some guy (not her boyfriend), and alienating all of her friends. Uh...what?
9. Crusader ~ Edward Bloor
After reading Tangerine, I decided I loved Edward Bloor. So when this one came out, sporting a really spiffy knight-themed cover and description, I was sold! Firstly, there was no historical/fantasy element whatsoever - the knight is from a video game. Secondly, that I recall, the game was never played, just debated about (over violence and racism). Total let-down for me.
8. The Hunger Games ~ Suzanne Collins
I'd heard too much of the hype without really reading any of the reviews out there. You see, I hate spoilers, so I sorta kinda knew what the books were about, but so much of what I'd seen were the Team Peeta/Gale badges that I thought it was going to be another fluffy teen romance series. Yeah, no. Way more heart-wrenching than I was prepared for, The Hunger Games was deceiving only in the way I'd heard about it.
7. Door Into Fire ~ Diane Duane
Pure and simple, I read this because it was written by Diane Duane. I'd read a good chunk of her Young Wizards series, loved it, and wanted more. I was probably in middle school, maybe 6th or 7th grade, waaay too young. I remember my biggest confusion being over the hero's companion being a shapeshifter of sorts and continually taking male form when they made love. ...Yeah, I was a bit out of my element there.
6. The Passion ~ Donna Boyd
On the eve of a brutal murder in contemporary Manhattan, Alexander reveals to his son and heir a tightly guarded family secret--a world in which a superior race of werewolves holds the positions of power. The one human who is accepted naively embraces all things werewolf--an ambition that results in unspeakable tragedy.

Honestly, the only word I read was werewolf. I was probably in the 5th or 6th grade and had, for some unknown reason, been wandering through the library's adult books (non-kids section). Maybe I'd searched 'werewolves' in the computer? I don't know. All I know is I checked out this book and didn't understand practically any of it. I probably skimmed the majority of it, hoping to get to the werewolfy parts (which were few and far between, if I remember correctly), and ended up getting a lot more adult romance than I anticipated. Ah well, live and learn.
5. The Wish List ~ Eoin Colfer
Even though this one's description doesn't hide anything, it surprised me how religious it got. I mean, when you deal with angels and demons it's kinda hard not to be religious, but the ideology usually doesn't change. Having a main character who was straddling the line between the two sides put everything into a new perspective, and I was surprised by how much it spoke to me. You don't really expect a MG book to teach life-lessons, or at least I didn't.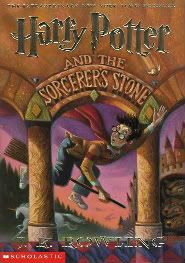 4. Harry Potter and the Sorcerer's Stone
~ J.K. Rowling
When I first saw these books at the bookstores, I didn't give them a second look. They looked way too childish for me - I was into serious stuff...like Animorphs, Spy Girls, and Alanna. But seriously, it was that time when I was starting to make the transition out of Middle-Grade books. And it was before the big YA boom, so I was mainly moving into the 'Adult' sci-fi/fantasy sections. This colorful and cartoony book couldn't be cool to read.

And then my dad got it for me after a business trip. I owned it, so I guess I might as well read it. I think I pulled my first all-nighter finishing it. And I've never looked back.
3. The Bell Jar ~ Sylvia Plath
A book I had to read for a college class. I'll admit that I'd stopped expecting much from required reading. Then we read this and it was scary how logical, rational, and familiar the crazy narrator felt. I mean, a lit major in college who didn't know what she wanted to do with herself? If I bonded with a crazy book character, did that make me crazy too? Thankfully many of my classmates felt similarly, so at least we had our own support group ready to go. Making such a connection with a crazy person was certainly unexpected.
2. The Hour of the Star ~ Clarice Lispector
Another book I had to read for school, but back in high school this time. This was a part of our foreign literature section, which had been fairly dry so far. And then we had this, a little bright blue book with some weird abstract art on it. But The Hour of the Star turned out to be one of the most beautiful pieces of literature I've ever read. New-age and poetic, it offered not only an interesting story but insights on the writing process that I savored and re-read over and over again. Not bad for 96 pages.
1. Grave Mercy ~ Robin LaFevers
This one didn't psych me out until I'd already started reading it. The book starts out with the main character at age fourteen, uneducated and illiterate in medieval France, and she's in charge of narration. It was soooo hard to read, I didn't know how in the world I'd get through 549 pages of it! And then I hit chapter 6, which skips ahead three years, and it was like a whole other book. Seriously, the contrast is amazing, and it makes sense in retrospect, but I will admit that I wasn't sure I could read the whole book. Sneaky, sneaky.
What's on your list?