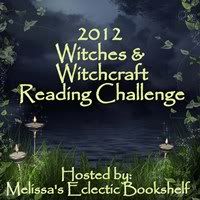 Hosted by
Melissa's Eclectic Bookshelf
Since I have quite a few witchy books on my TBR pile this year, I figured this was a no-brainer.
I'll be aiming for the
Crone
level of being bewitched by
16-20 books
this year.
Some options I'm planning on picking up:
Crushed
by K.C. Blake
Hex Hall
,
Demonglass
& Spell Bound by Rachel Hawkins
The Magicians & The Magician King by Lev Grossman
The Circle Opens Quartet by Tamora Pierce
Song of the Lioness Quartet by Tamora Pierce
The Immortals Quartet by Tamora Pierce
Provost's Dog Trilogy by Tamora Pierce
Any other witchy titles you think I should look into? Leave a comment below, and wish me luck!
Keep track of my progress on my Reading Challenges page.